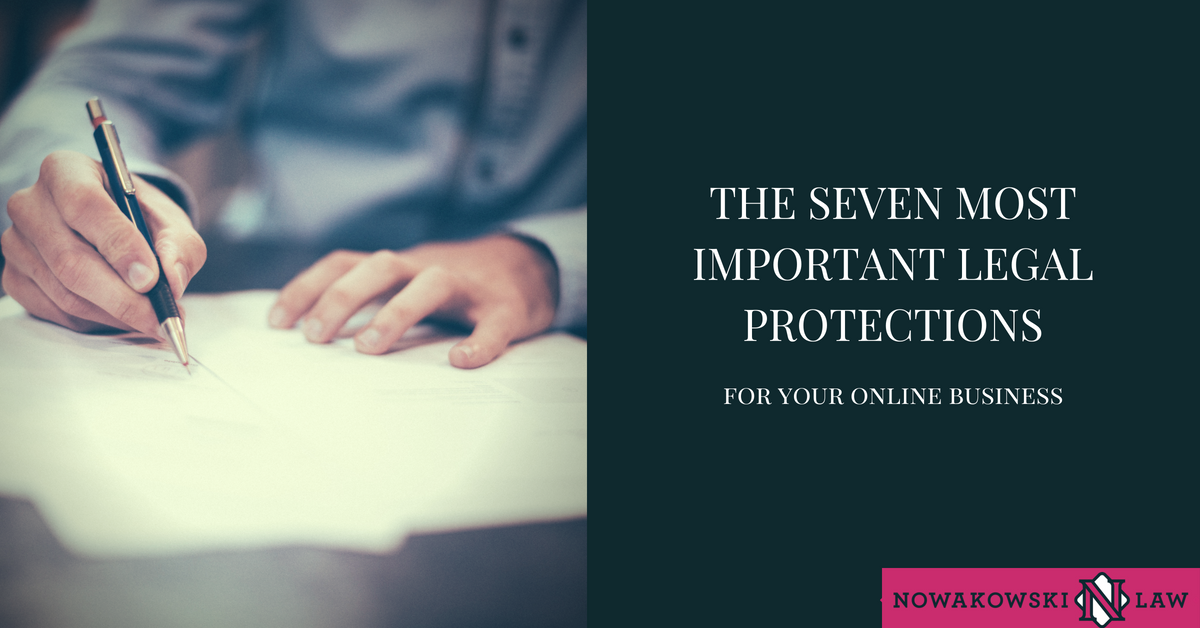 The Seven Most Important Legal Protections For Your Online Business
As an entrepreneur, you have a particularly big role to play in the success of your online business. You are the sales person, the developer, and the customer representative – all at the same time. While outsourcing some of these roles or hiring others to fill these positions is a good idea, scarce resources may not enable you to work with a consultant or freelancer.
No matter what roles you end up serving, it's important to remember that being an online business owner does not give you immunity from the law. Your business is very much regulated by the same laws guarding big businesses – sometimes even more – so you have to know how to handle legal issues. While not all of your legal needs may require hiring a lawyer, all of it does require your knowledge of the law. A little bit of preparation will go a long way. This article is a good place to start.
ONE: Your Pre-Business Contracts:
The most common mistake startup founders make during early growth is not establishing a strong legal structure at conception. While it's tempting to dig into the vision for your company and start making your idea a reality, it's important that founders pause and cover their legal bases. The core legal documents that founders need to put into place will help avoid costly legal battles in the future. Three are listed below.
Articles of Incorporation.  A common mistake startup founders make is failing to put the proper business structure in place. Setting up only a sole proprietorship can result in huge income tax bills and legal liabilities for which founders are personally responsible. By not filing with the Internal Revenue Service to form a distinct legal entity for their business, founders risk losing their personal savings and, in some extreme cases, their homes.
Nondisclosure Agreements.  Having a non-disclosure agreement (NDA) readily available, is imperative before any business conversations take place between you and an outside party. From the moment a prospective employee or investor initiates contact with you, you need to have an NDA agreement waiting for them to sign. NDAs protect your online business by safeguarding your founder and employees' ideas, and your intellectual property. An NDA should specify the following:
What constitutes confidential information

How confidential information should be handled

Who owns that information (the company)

The time period that the information will be disclosed

The time period confidentiality will be maintained
Independent Contractor Agreements. For many small or online businesses, outsourcing to independent contractors is a great way to get some added help, fill a specific needs, or bring in specific expertise. It's a flexible arrangement, and you don't have to pay workers' compensation, payroll taxes or employee benefits for contractors and freelancers. However, be aware that the IRS is now on the lookout for employers who misclassify their workers as independent contractors to avoid paying payroll taxes.
For this reason, it's smart to make a contract. Consider an independent contractor agreement that explicitly defines the relationship between you and the worker. Make it clear that you intend the worker to be an independent contractor who is responsible for his or her own taxes. In addition, the agreement should not exert much control over how work will get done. Be careful not to set specific hours for when they need to work or where.
TWO: Your Business Structure:
While less exciting than building a website and marketing your product, careful evaluation of which business structure is right for you is crucial because it will have implications for how the IRS taxes your profits. It'll also determine whether your personal property is protected when others demand money from your business. Other considerations, including the management of the new business and your long-term plans for it, come into play as well.  
Business structures are largely creations of state law, and there are minor variations on the details from state to state. But here are five common models:
Sole Proprietorship.  

An unincorporated business that is owned by one person who reports business profits on his or her individual tax return. A sole proprietorship is the simplest business structure and is straightforward to start.

Partnership.

An unincorporated business is owned by multiple owners, and these can be either people or other businesses. Profits are divided among its owners and reported on their tax returns. Common partnership types include General Partnerships, Limited Partnerships, Limited Liability Partnerships (LLPs) and Limited Liability Limited Partnerships (LLLPs).

A Limited Liability Company.

An LLC is a hybrid business structure that limits the personal liability of its owners — called members — like a corporation but allows the profits to be taxed on either a member level or the corporate level.

An S Corporation.

An S corporation has one class of stock and no more than 100 shareholders, none of whom can be another for-profit business, or a person without a green card who doesn't meet IRS residency requirements. Profits are taxed on shareholders' tax returns, and shareholders have limited liability.

A C Corporation.

A corporation whose profit is taxed once on the business level, and a second time on an individual basis when earnings are distributed to shareholders who have limited liability for the business's debts. C Corporations can have multiple classes of stock and an unlimited number of shareholders.
THREE: Intellectual Property
Intellectual property (IP) is the bread and butter of most online businesses. Be prepared to invest in the time and talents of an IP attorney early on because there's sometimes a very thin line between creativity and theft. Intellectual property owners need to put in efforts to ensure their rights are protected. As an online business, securing a trademark for your IP is the only way to guarantee no one will steal your idea from you.
Trademark and Copyright Protection:
There tends to be some common misconceptions about what these words actually mean, with must-know legalities and laws around each one. The United States Patent and Trademark Office defines them as the following:
Trademark

: A word, phrase, symbol, and/or design that identifies and distinguishes the source of the goods of one party from those of others.

Patent

: A limited duration property right relating to an invention, granted by the United States Patent and Trademark Office in exchange for public disclosure of the invention.

Copyright

: Protects works of authorship, such as writings, music, and works of art that have been tangibly expressed.
FOUR: Terms of Use Agreement:
Essential to your website is the Terms of Use Agreement, which is intended to be a contract between the Web site owner and the users of the site, and any purchasers of goods or services from the site. A well-drafted agreement includes: limitations on how the site can be used, copyright protection warnings, disclaimers, liability limitations, disclosure on the site's privacy policy in dealing with customer information, jurisdiction where any disputes must be brought (ideally, the hometown of the site owner), and much more.
FIVE: Privacy Policies:
This is one of the most important areas of launching your online business, and you should plan on devoting time to getting this right.  Remember that regulations around privacy policies don't just end at your website: any tool that collects information from your site — such as website analytics, online forms, or chat widgets — will require a policy too. Google Analytics, the most popular web analytics tool out there, even has a privacy policy requirement in its terms of use.  Equally important, if you're planning on running any online ad campaigns, both Google and Facebook require privacy policies in place if you're collecting any user information. This is especially important for Facebook Lead Ads, which requires a privacy policy URL link within each ad you create.
A privacy policy usually lets your customers know what type of data you're collecting, and what you're doing with that data. It also generally provides information about how you're collecting data, whether it's through a form or cookies on your website.
Privacy policies may also include information on who has access to the customer's data. This can mean giving customers the right to request data if they want, and a process to do so. And it usually involves providing contact info if they have a question about the privacy policy. You may also want to provide an opt-out notice for users that don't agree with the policy.

Speaking of privacy policies, have you heard about the GDPR (aka the new General Data Protection Regulation put into place by the EU?). If you're unsure of what you need to know for this new privacy law and how to get yourself compliant, click here to watch my free masterclass on the GDPR, OR click here to download a totally free GDPR compliant plug-and-play privacy policy.
SIX: Client Contracts

Drafting up contracts for your clients doesn't need to be complicated, nor does there need to be a lot of legalese. The goal is to clearly define all expectations of a project from both you and your client. On a very basic level, a contract should clearly spell out who's doing what and for how much. Clumsy legal language often confuses people and should be kept out of agreements if possible. Generally, if you don't understand it yourself, then you should leave it out of your contract.
Service agreements for your clients. A client service agreement focuses on your relationship with your clients or customers. If you are a consultant, coach, or other service professional, then it's imperative that your clients know what to expect when working with you and what their responsibilities are in the transaction.
A well-drafted client service agreement memorializes the basic terms of your relationship with your client. It also provides the next steps in the event something unexpected happens. It can prevent disagreements and confusion with your customers, which in turn can prevent any need for litigation.
Your client service agreement should include the client's name and contact information, a place for them to sign, the amount the client will pay you, and what exactly you will provide in exchange for that payment.
Other important items you should include:
What happens when a client fails to show up for their appointment?

How many calls/emails/meetings with you can the client expect?

How and when will the client pay you?

What happens if payment is late?

How can you, or the client, terminate the coaching relationship?
Coaching agreements/freelancer agreements. When you're mentoring others online or offline on how to improve their businesses or personal lives, you will want to put into place a written coaching agreement that clearly states what you have agreed to do, when you will perform such coaching services, and your coaching fee(s).
Equally important, your coaching contract should specifically exclude key areas that your services do not cover.
When having an experienced business lawyer prepare the coaching agreement you will use with clients, here are some key factors to consider:
What is the term of your coaching agreement?

What deliverables are you promising and, equally significant, what are you excluding from the scope of your professional coaching services?

What media will be used to deliver your coaching services?

How and when will you get compensated for your professional coaching advice?
SEVEN: Liability Protection
Clear communications will solve many customer complaint problems for your online communications, but may also protect you from claims of false advertising and investigation by the U.S. Federal Trade Commission. Disclosing basic information is required by law, but must be done accurately. Therefore, you should monitor the information you are placing on your website to make sure it accurately depicts your business practices, prices, products, or whatever else you are describing to potential customers to entice them to buy your products or services.
Clear communication also includes "adequate" communication. Leaving out key details about what you are describing on your website can be considered misleading. The FTC provides guidelines on its website regarding advertising and marketing on the Internet and gives good examples of what types of statements might be misleading to customers. 
Cyberattacks.  Protecting against cyber-attacks isn't that difficult. Hackers are intelligent and ambitious, but statistics show that entrepreneurs and business owners generally do not employ the best defense mechanisms against cybercrime either. Most victims are "targets of opportunity." In other words, they had extremely poor security, if any. Here are a few things you should do to protect your business against cyber-attacks:
Purchase malware and anti-virus software

. Malware is used in most data breaches. It can be planted onto a computer through spammy websites, suspicious emails, or unsecure Wi-Fi connections. If the infiltration is successful, malware can capture login information and keystrokes. Other threats include email phishing, pop-ups requesting personal information, or social media account access. The good news is that it's surprisingly easy to protect your business against malware and viruses. Simply install appropriate protection software. You should also update it regularly because worms and other viruses thrive on out-of-date software.

Encrypt important data

. Sensitive data such as bank accounts or client information should be encrypted because this is exactly the kind of information that hackers are looking for. Full-disk encryption tools, which are standard features for most operating systems, should be utilized at all times. Data encryption can also be used for cloud-based services or email platforms.

Educate Employees

. Most cyber-attacks occur through compromised Wi-Fi networks If you use wireless networks, you should make sure that they have strong passwords. You should also disable the SSID broadcasting function on your router in order to hide your network. Avoid using WEP networks. At the moment, WPA2 is the standard because it offers better protection.
Disclaimer You should avoid making announcements, slanderous statements, or engaging in any business that might be considered suspicious. Partnering up with companies that end up being sued might also harm you in the fallout. In addition to this, you should also limit any possible conflicts of interest. To that end, you should definitely think of obtaining liability insurance to protect yourself against unfortunate events. Errors and omissions coverage should also be considered, especially if you're working with people. Another option besides purchasing insurance is to build protection through your contracts.
Here are a couple of things that a website legal disclaimer can do:
Inform people you may change your content at any time with or without notice
Disclaim responsibility for the content provided on any websites that you link to your website.

Advise people, under no uncertain terms, if they take any action based on the information provided on your website that they do so "at their own risk."
Data Protection. There is probably no quicker way to lose customers than to allow their personal information to be unsecured. Laws and customers are placing more and more emphasis on personal security, and protection of their financial information is required. Accurate and adequate disclosure of security practices to consumers is a vital aspect of good online business practices. State and federal laws require protection of financial information and social security numbers. Also, several state laws require notification to consumers if there is a security breach that puts their personal information at risk for identity theft or other fraud. Constant monitoring of your security practices is essential.
Conclusion: Relationship with a good attorney!
Finally, and perhaps most importantly, securing a good attorney at the beginning of your business will save you time and trouble in the future. If you're unsure which corporate structure is right for you, talk to an attorney. If you're not clear on the terms of a new contract you're about to enter into, have a lawyer read and interpret the document to you. While you might be very eager to append your signature to the agreement, taking a little caution will keep you from entering a long and painful business relationship. An investment in a good counsel now, will pay big dividends in the future.